Play golf long enough and you'll likely develop a healthy love-hate relationship with the game. It's a dynamic Pete Dye, who designed many of America's most famous and iconic golf courses, leaned into heavily with every inch of dirt he moved. Widely considered to be the most influential golf architect of the second half of the 20th century, Dye's penchant for highly imaginative and supremely challenging layouts span the globe from here to Singapore.
Younger golfers are likely more familiar with Dye's later designs, notably Whistling Straits in Kohler, WI, and the Dye Course at French Lick Resort in French Lick, IN. Both are expansive layouts (the course at French Lick measures 8,102 yards) that put a premium on distance and position off the tee. But in his earlier days (notably the 1970s-'80s), he hewed more to a "target golf" philosophy which included Donald Ross-like small, well-contoured greens, tight fairways, short yet devilish par 4s, bunkers revetted with railroad ties, and pure emotional and visual intimidation (think TPC at Sawgrass with its 17th island green).
While many of Dye's earliest masterpieces may be out of reach for the average recreational player, one doesn't need to travel far or spend an arm and "dog"-leg to experience his Dyeabolitcal genius. In fact, just 30 minutes east of downtown Cleveland, OH, golfers have easy access to one of his most awarded layouts ranked by GolfWeek in 2021 as the "Best Public Course in the State of Ohio," the "20th Best Course Layout in the United States" in 2016 and the "8th Best Pete Dye Course in the Country" in 2015.
In the late 1960s, TRW Automotive got a wild hair to match other nearby corporate facilities like Firestone (Akron) and the National Cash Register Co. (Dayton) by building a first-rate golf facility. Around 1,500 acres were acquired in scenic Geauga County (Chesterland, OH) and plans drawn up to construct three 18-hole courses. Dye, having recently completed critically-acclaimed courses such as Crooked Stick, The Golf Club and Harbour Town Golf Links, and being an Ohio native, was the prohibitive favorite to oversee the project. With help from his brother, Roy, Dye built the course (revised to 27 holes) from 1969-71.
While many of Dye's earliest masterpieces may be out of reach for the average recreational player, one doesn't need to travel far or spend an arm and "dog"-leg to experience his Dyeabolitcal genius.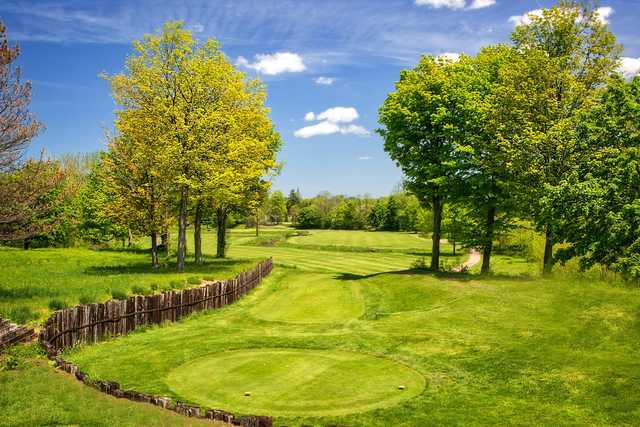 The TRW Course, as it was originally named, was sold in 1986 to American Golf Corp., and dozens of new names were suggested. The company finally settled on one that paid tribute to Milo Fowler, an early gristmill owner and original settler on the property. Today, Fowler's Mill Golf Course continues to thrive as one of the finest public courses in Northeast Ohio if not the entire country. The signature railroad ties, split fairways, grass bunkers and wooden bridges first conceived on Pete and his wife Alice Dye's trips to Scotland in the early 1960s have remained unaltered, a lasting testimony to a man once described as the mad scientist of modern golf architecture.
Now under the auspices of CLE Golf Properties (also expertly operates regional favorites Legend Lake, St. Denis and Powderhorn), Fowler's Mill consists of three nine-hole circuits — the Lake, River and Maple — with the first two comprising the 7,025-yard championship layout. Given its pedigree, outstanding design and conditioning, it's no surprise that the course has hosted several U.S. Open qualifiers and remains the benchmark for unmatched public play in the greater Cleveland area. In addition to a layout that gives golfers a feeling that is not found anywhere else within a thousand country miles, the facility includes a 7,000 sq. ft. Western Reserve style clubhouse which houses a well-stocked pro shop, grille/restaurant and the luxurious Pete Dye Banquet Room capable of hosting up to 225 guests. The practice facilities, which include both a chipping and putting green and a grass tee driving range, are top-notch, too.
Dye, who passed away in 2020 at the age of 94, was a puppet master who knew how to pull all the strings of a golfer's psyche with his designs — greed, inhibitions, bravado and, occasionally, stupidity. Fowler's Mill capitalizes on all these character traits by presenting multiple risk-reward holes and one stunning shot after another. Golfers shouldn't expect to post a career-best round here. But they should anticipate having as much fun as is legally allowable on a golf course.
There are approximately 80 sand bunkers spread across the three nine-hole layouts, most situated near the landing zones and greensides. Water hazards play a strategic role in the form of a crossing creek and alongside a large lake on six holes, with a few forced carries. One interesting note is that all 27 holes are named — such as "Secluded," "Reprieve" and "Fortress" — giving you some indication of what to expect. As mentioned, the Lake and River combination is by far the most challenging while the Maple nine is more user-friendly.
In a continuing series of outstanding, signature-worthy holes on the Lake-River 18, several deserve special consideration. One of those is No. 4 on the Lakes. Dubbed "Coastline," it is a daunting par 4 (393 yards from the middle tees) shaped like a shepherd's crook. The namesake lake is positioned on the right and players are invited to bite for the tip of the hook. Unless you're kin to John Rahm or Dustin Johnson (it requires about 300 yards to carry the lake from the back tees), you'll want to lay out to the narrow fairway on the left. The approach from there is played diagonally right and over the corner of the water to a peninsula-style green protected by two bunkers. Fortunately, the fairway bends around the left side of the green for those who decide to bail out.
The same concept, sans the lake, is exercised a few holes later at No. 8 ("Knight's Canter"). Much like a knight on a chessboard, the best and safest play is "two moves forward and one move to the side." The hole measures nearly 580 yards and you'll need to follow the double dogleg around patches of trees. Or, if you're brave enough, you can cut off a good chunk of the hole's length by attempting to navigate a corridor of bunkers that stretch 150 yards or so.
The most distinctive element of the Lake-River loop is the introduction of the Chagrin River which splits vertically both the Lake's No. 9 fairway and River's No. 12 fairway. The 388-yard No. 9, called "Decision," presents two distinct options. The left fairway off the tee offers the more conservative play, leaving a short second shot over the creek. The riskier, tighter fairway on the right provides a better angle to the green and takes the water out of play with your second. Number 12 on the River, appropriately named "Chagrin," is a classic Dye short par 4 of just 338 yards from the middle tees. The left fairway is narrower, but doesn't require a forced carry and gets wider in the driving area. The right fairway has more water in play and narrows at the target zone, but presents the clearest path to the hole. Either way, the heart-shape green is well-protected by the river and two bunkers left and two back right.
Fowler's Mill is difficult. But it is also very fair and in no way "tricked up." In fact, because of the great piece of property Dye was working with, very little earth was moved in the construction process. The result is a wide variety of holes that mix open, tightly tree-lined and split fairways with pot bunkers, grassy retention areas, railroad ties, plateau greens and all of the other elements and nuances one might expect and hope to find. And best of all, Fowler's Mill allows all golfers to experience one of Dye's greatest designs at a very affordable rate making it a course to "Dye" for.